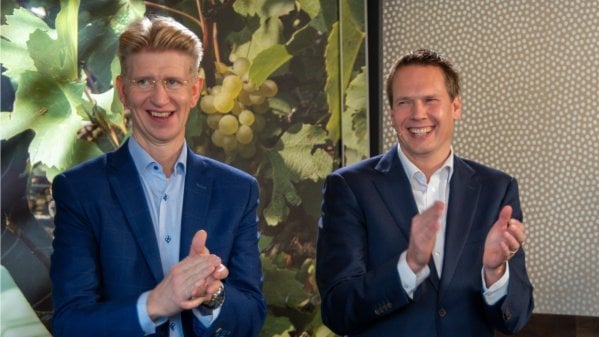 Automated medicine dispensing makes it possible for people to live independent lives at home with improved medication management and patient safety. Both Evondos and Medido, experts in automated medicine dispensing, are now joining forces to meet the increasing demand for medicine dispensing services. The two companies will help more people across Europe and beyond with a broader offering.
Both founded in 2008, Medido and Evondos share the same vision of helping an ageing population to live independent lives at home. Automated medicine dispensing enables people in need of medical treatment to get the right medication at the right time and in the right dose automatically, which improves home care clients' safety, medication adherence and quality of life. Evondos' and Medido's solutions reduce time spent by caregivers on routine tasks, freeing up more time for care and social interactions during home visits.
"We are a perfect match. Two companies with great teams and medicine dispensing service, working to improve quality of life and free up time in-home care to the benefit of both home care clients and home care organizations. By combining our teams, technologies and services, we can handle the increasing demand for medicine dispensing from an ageing population and a home care system in need of resources," says Eetu Koski, CEO of Evondos Group and continues.
"Lack of nursing staff combined with a growing population of elderly in need of daily support is a global phenomenon. Evondos' and Medido's services make it possible for people to live independent lives at home with improved medication adherence, despite the lack of nursing resources. Together, we will help a growing number of people across Europe and beyond with a better offering meeting a broader range of clients' needs."
Evondos is the market leader in the Nordics, employing nearly 200 medical device professionals working out of offices in Finland, Norway, Sweden and Denmark. Medido medication dispensing service is number one in the Netherlands with a market presence in the Nordics. The company has around 100 employees. Together Evondos and Medido are serving hundreds of private and public care organizations in Europe.
The two companies will combine their expertise, best practices and experience and invest in technology and solutions to provide leading automated medicine dispensing solutions including excellent customer service today and in the future.
"We are pleased to have met our medicine-dispensing soul mate. We are both driven by our shared vision to help more people live independent lives. We help family caregivers and private and public home care organizations to be able to provide quality home care to an ageing population. By combining our capabilities, we can serve our customers with a tiered offering and even stronger expertise, and we can accelerate our international growth by entering new markets together. We are happy to join the Evondos Group. We are really looking forward to enabling improved home care in Europe," says Thijs van Nuenen, founder and CEO of Medido.
In this transaction, Evondos Group acquires all shares of Vitavanti Group BV, the company behind Medido. Vitavanti shareholders will invest back in Evondos Group and become a significant shareholders of the company. Verdane, the European growth equity investor focused on technology for a better future, will remain the main shareholder of Evondos Group.
See the story of how the founders of both Vitavanti and Evondos 2008, 1800 km apart, came up with similar ideas for helping their grandmothers who struggled with their medication intake.
For more information and interview requests, please contact:
For Evondos
Mikko Hyle
Marketing Director
T. +35 8 40 70 06 897
E. Mikko.hyle@evondos.com
For Medido
Het PR Bureau
Julia Noordenbos
T. +31 6 31 33 97 91
E. julia@hetprbureau.nl
About Medido
Medido is the leading provider of automated medicine dispensing services in the Netherlands and has a presence in Norway, Sweden and Denmark as well. Medido automatic medication dispensing services help clients take their medication on time, saving (professional) caregivers and home care organisations time and logistic burden, so they can focus on caring for their patients. The service is based on advanced technology and consists of an automatic medication dispenser installed in clients' homes, with a cloud-based control system and service elements. Medido currently employs around 100 medical device professionals in the Netherlands. Medido is a brand from Vitavanti Group BV, headquartered in Rijswijk, the Netherlands. www.medido.com
About Evondos
Evondos is the leading provider of automated medicine dispensing services in the Nordics. Evondos' unique service provides significant quality and impact of saved nursing time benefits for professional home care organizations. The service enables people in need of medical treatment to get the right medicine at the right time and in the right dosage automatically, which improves patient safety, medical adherence and supports independent life at home. The service is based on advanced technology and consists of an automatic medicine dispensing robot installed in private homes, with a cloud-based control system and service elements. Evondos currently employs nearly 200 medical device professionals in Finland, Sweden, Norway and Denmark. Evondos Group is headquartered in Helsinki and has its operations and production facilities in Salo, Finland. www.evondos.com