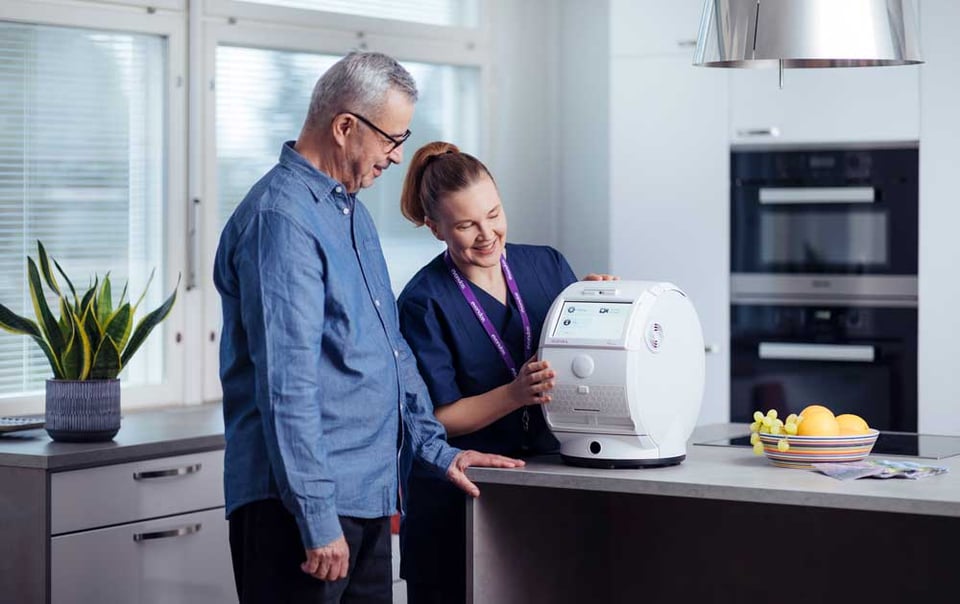 Kramfors, Sweden – Impact of medicine dispensing robots exceeds expectations. The final report recommends a swift transition from pilot to roll-out.
"It reminds me to take the right medicine at the right time, so I don't need to worry that I might take a double dose or miss one entirely", says one of the patients.
For several years now, Kramfors Municipality in Sweden has been working intensively on welfare technology and digitalization, an approach that has advanced the municipality's development of solutions for elderly care, enabling national metrics to be met. Examples of the technology that has been introduced include wearable medical alert devices, safety cameras and online grocery shopping.
The municipality has also conducted a pilot project to test Evondos medicine-dispensing robots. And the results have been positive. According to the final report, the robots have had a real impact across the board, with a swift transition from pilot to roll-out being recommended. The view is that the project as a whole has been well organized, which in turn has led to a relatively short time for implementation with extremely good results, an outcome that exceeds the initial objective.
"One prerequisite for this successful outcome was that the project had to be able to adapt both the organization and working method. Digital technology has huge potential to help older people stay in their own homes, feel safe and be an active part of their community while also being healthier. If they get the right support, older people are able to live more independently and do not need as much care. Digital technology can also contribute to a wider social circle and thus break the cycle of loneliness and isolation many older people experience," states Kramfors Welfare Administration in the final report.
"By following up on how the automated medication dispensers have been working, as well as checking in with the employees who come into contact with them, we have clear evidence of how much the staff appreciate the support they get from the provider's support team. And the same is true of the project support included in the service. A provider making sure that the municipality's implementation goes as planned is unique! And something we're very happy about," says David Wiklund, Operations Developer at Kramfors Municipality, of the partnership with Evondos.
An analysis of the project shows that 80 percent of those who have used the medicine-dispensing robots think that the solution works very well, while 20 percent think that it works well. The analysis also shows that 93.33 percent felt more independent thanks to the use of the automated medication dispenser compared to medicines given to them via physical home visits.
The final report also reveals that the introduction of medicine-dispensing robots has had a positive impact on the employees' working environment. One survey showed that 41.7 percent felt that their working environment had been improved due to the introduction of medicine-dispensing robots, while 58.3 percent said it had been partly improved. However, 91.67 percent of employees surveyed thought that the robots contributed to the independence of individual patients, with 8.33 percent saying it had partly contributed.
The introduction of these devices has also had a significant impact at the operations level. To cite just one example, the need for delegated staff – staff with the authority to administer medicines – has fallen by approx. 50 percent, an outcome that facilitates resource management in general and the recruitment of relief staff in particular. One consequence of this is that it frees up time for nurses who no longer need to plan and hold as many delegation training sessions as before.
"In summary, this is a result that is part of futureproofing resource management in a municipality that has trouble recruiting staff," states Kramfors Welfare Administration in the final report.
It has also emerged that the introduction of these devices has improved continuity in the visit plans. The medicine-dispensing robots replace the need for several visits each day, which means that some people do not need as many visits – and this in turn means that they see fewer different carers.
"Another effect of the medicine-dispensing robots is that it's now possible to spread out the visits more evenly during the day rather than them simply revolving around the times that medicines tend to be taken," explains Kramfors Welfare Administration in the final report.
According to the final report, the number of visits per year will be cut by 10,183, the number of kilometres driven per year will be cut by 143,080, the fuel consumption per year is estimated to be reduced by 8,584 litres and the amount of time freed up for assistant nurses is estimated to be 4,242 hours per year.
The expectation is that economic added value will be achieved in the first year of the pilot project – despite the costs of launching the project. The full potential effect is anticipated to be achieved as early as 2023, while in the Lugnvik pilot area, the economic added value is estimated to be SEK 920,360 per year.
"It's fantastic to see how Kramfors has succeeded and how we are getting on as partners during the introduction period. Kramfors and our project manager have done some incredible work together, and it'll be interesting to see how the roll-out goes," says Hanna Bengtis, Regional Sales Manager at Evondos.
Some comments from people using the medicine-dispensing robot:
"It reminds me to take the right medicine at the right time, so I don't need to worry that I might take a double dose or miss one entirely."
"I used to find it difficult to remember to take my medication at the right time. This new box has taken care of that problem; I don't need the home care service anymore to help me with my medication."
"I don't have to wait for the home care service anymore. I'm pleased that technology has got so advanced."
Some comments from the staff:
"I think the automated medication dispenser works marvellously now it's got going and the user has become accustomed to it."
"The carers really appreciate it."
"It means a reduced workload at specific times."
"We've been able to make shifts shorter."
"We can finish for the day earlier in the evenings and don't have to make as many morning or evening visits. And hopefully, we'll be able to start work later on some shifts."
For more information:
Mikko Hyle, Marketing Director
Phone: +358 40 700 6897
Evondos Group
Evondos Group is Europe's leading provider of automated medication dispensing services. Evondos' unique medication dispensing service offers significant quality and cost benefits to professional home care organizations. The service ensures that home care clients receive the correct medication at the right time and in the appropriate dosage automatically, improving medication management quality and supporting independent living at home. In early 2023, Evondos acquired Medido, a Dutch provider of medication dispensing services in the Netherlands, Norway, Sweden, and Denmark. Evondos Group employs today a total of 300 professionals in the Nordic countries and the Netherlands, serving tens of thousands of users daily. The headquarters of Evondos Group is located in Helsinki, with the majority of its operations and production facilities in Salo.